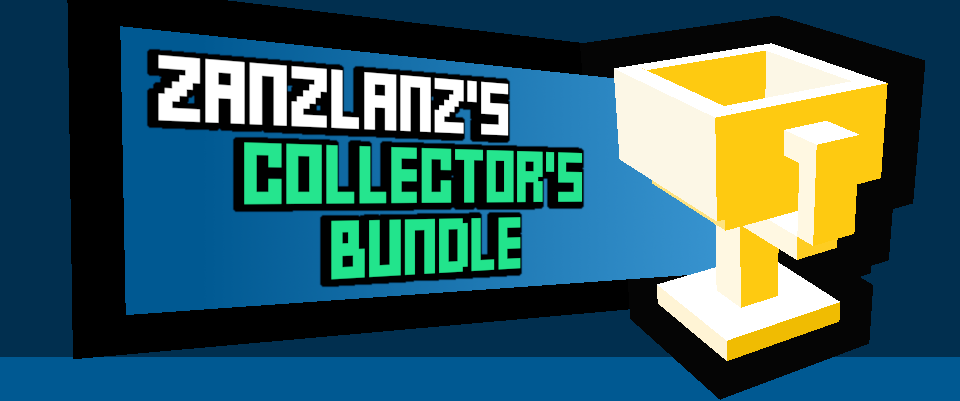 Zanzlanz's Collector's Bundle
A downloadable game bundle for Windows
Zanzlanz's Collector's Bundle
A bundle of 11 arcade-like games I made, complete with a launcher that tracks all 100 achievements!

When you win, you get a sweet spot on a winner's leaderboard!
Bonus: the first 10 winners get automatically congratulated on my Twitter!
Originally released as fast-paced Flash games, each project was carefully (and faithfully) ported to a custom engine to work natively on desktop.
This bundle includes:
FLIPTRIS
Rotate the entire world to help you clear squares and score points. It's like TETRIS, but with a "twist"!
Snowman Slide
Solve a unique set of levels to help a snowman become a unicorn (of course). All levels are completely randomly generated, which makes this game my personal favorite.
Dynamole
Can you, an agile mole, escape the exploding cave? Collect worms, dodge lava balls, and outrun explosions (of which there are enough of to make you think Michael Bay was involved).
ARBF
Alternate Reality Boss Fight! Defeat the boss as fast as you can while using a goofy selection of projectiles and hostage items.
Hexagon Tribute
A fast-paced, obviously shameless fan game of Terry Cavanagh's "Super Hexagon." Can you survive all 4 minutes?
Convey
You have 10 seconds to change everyone's mood. Make everyone happy, make everyone sad -- it's all part of the game.
DESEEDER
Plants have taken over! Destroy ALL of the seeds in this tightly balanced horizontal flight shooter.
Human Apocalypse
You're a zombie being overrun by humans (and ironically I guess you have the only pea shooter in the world). How many days can you survive? How many days can you put up with the humans having the same 5 voice lines?
I'd Change the World for You
Transform the world around you to reunite with your loved one in this cute casual platformer.
Lab Lights
The power is out! Find a way to turn on all of the lights in this lab-themed puzzle game.
Str1ngle
Destroy the sharp stars with your wrecking ball, and avoid getting the cord cut. Collect powerups and survive 9 waves of mayhem!
Contact
Reach me via the official Discord, by email, or on the discussion boards below.
Purchase
In order to download this game bundle you must purchase it at or above the minimum price of $4.99 USD. You will get access to the following files:
Zanzlanz's Collector's Bundle (Windows).zip
106 MB